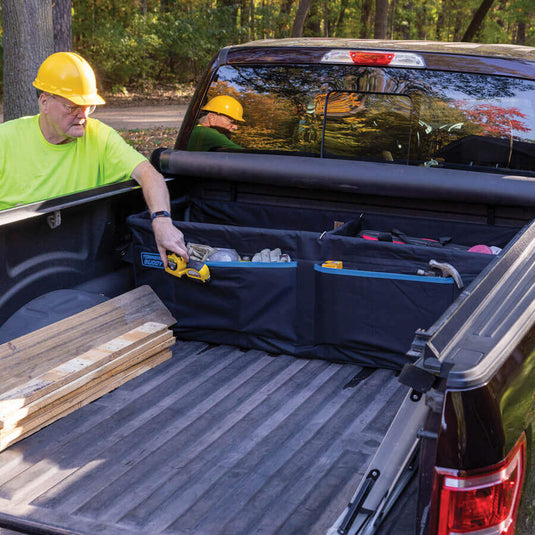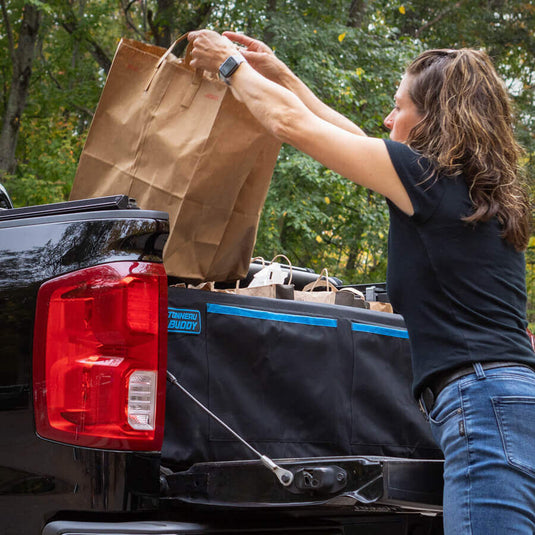 Storganize your groceries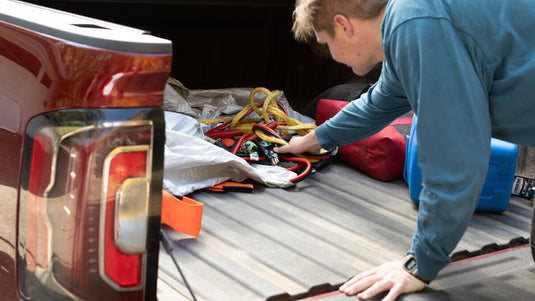 The Problem
If you own a pickup truck with a tonneau cover you know what it's like to retrieve your stuff that's stored in the bed of your truck.
The Solution
The Tonneau Buddy "Storganizer" gives you organized storage under your tonneau cover either behind the cab or in front of your gate.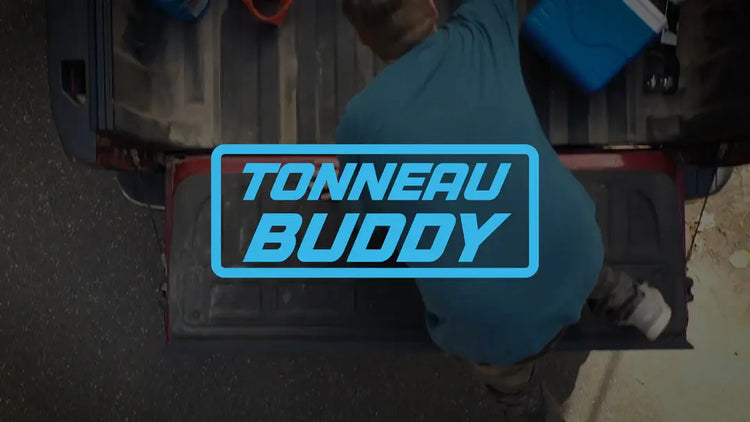 Tonneau Buddy
is loaded with features that make your life easier!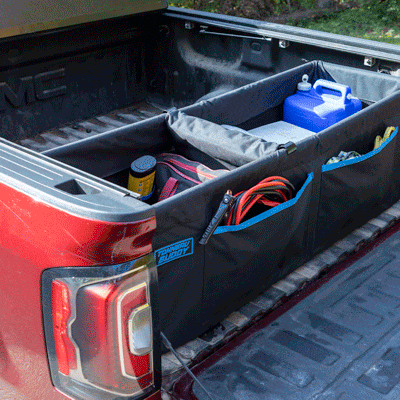 "Front or Back" Versatility
Your Tonneau Buddy is designed to fit either behind the cab or up against the tailgate depending on your needs. And, it's extremely easy to move – just pick it up.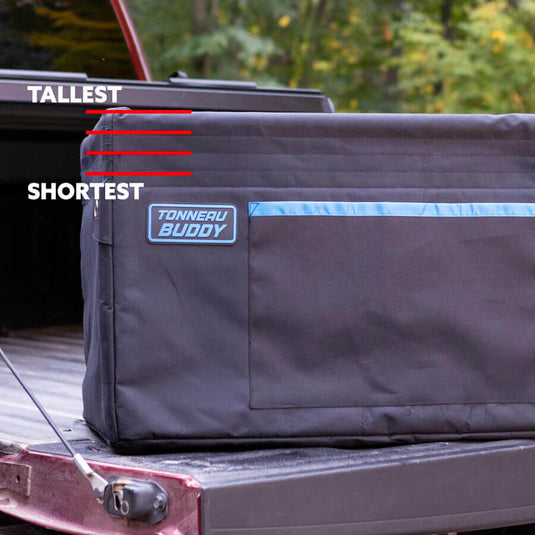 "Right Height" Adjustability
Every Tonneau Buddy features easy 4-level button spring height adjustment for a custom fit in the bed of your pickup.
"Pockets Galore" Storage
Tonneau Buddy features 18 total pockets for keeping all of your tools and toys organized and easy to find.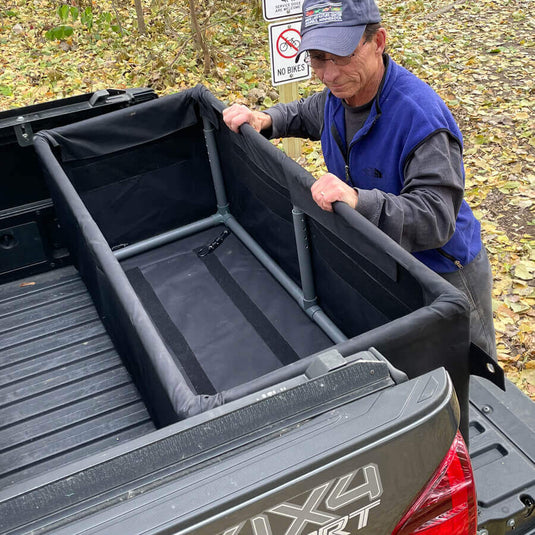 Lightweight PVC "ToughTube" Frame
On the inside of a Tonneau Buddy is a rugged, PVC ToughTube frame that provides exceptional durability without the cumbersome weight.
Heavy-Duty, Water-Resistant 600D "Burly Buddy" Polyester Fabric
Tonneau Buddy is constructed of a specially-designed, heavy-duty 600D polyester fabric for a lifetime of reliable performance.
Premium "Resist-It" Water-Resistant Treatment
Not only does your Tonneau
Buddy store and contain all of your stuff, but thanks to our Resist-It coating, it protects it from the water that always seems to find its way under your Tonneau cover, too.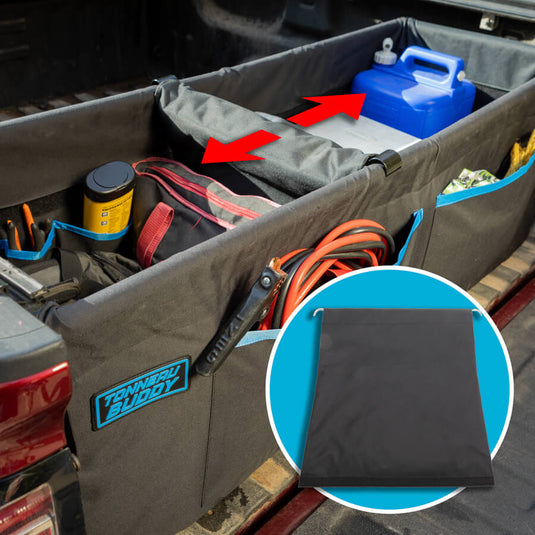 The "InSlider" Repositionable Divider
Tonneau Buddy comes with a
repositionable Velcro-down divider that you can place anywhere along the container to customize your storage space. Additional dividers are available.
"No-Slide" Feet
Tonneau Buddy features PVC No-Slide Feet in all four corners to keep the container from sliding on your bed liner. Brass eyelets allow you to tie Tonneau Buddy down for further security.
The Tonneau Buddy "Keep It Together"
30-Day Satisfaction Guarantee
We are so certain that Tonneau Buddy will help you store and organize all of your truck stuff, that we guarantee your satisfaction for 30 days after purchase.

Have a SUV?
You need a Cargo Buddy!
Cargo Buddy gives you storganization for you SUV. This soft-side, collapsible device is available for both full and mid-size SUVs.
Learn More
HIGHLY RECOMMEND
I was initially worried about going from a Yukon to a Sierra and not having an area to put groceries/keep organized while I drive so items do not fly around. This is the perfect setup. Very easy to assemble. Very easy to install. Great material.
VERY USEFUL
Exactly what I was looking for. Sturdy. Spacious. Not cheap looking or feeling.
NO MORE THINGS IN BACK SEAT
Fits great now I can put things in the back instead of the back seat. Goes well with my Paragon tonneau cover
JUST WHAT I NEEDED
So far the Tonneau Buddy has done exactly what I needed it to do. It carries groceries, luggage during road trips, it's a must have. The construction is great as well, very durable materials.
LOVE THE TONNEAU BUDDY AND COVER
I absolutely love the Tonneau Buddy and cover. It is exactly what I expected. It is durable and easy to assemble. I love that it fits my truck perfectly. It has more than enough space to fit all of my tools. It is worth the money.
WILL HANDLE THE LOAD
Easy to install, all the parts were labeled. The canvas around the framework is very durable, better than expected.
REALLY LIKE IT
I really like the product. My dad used to have a heavy wooden box he built to carry groceries and things like that. It was heavy and cumbersome. I really wanted something to put cargo in at the rear of my bed.
FITS WELL IN 2020 CHEVROLET 3500HD
Arrived well packaged. Very easy to install. Took advantage of the bundle price deal.
OUT OF THE BOX AND INTO TRUCK IN 10 MINUTES
I have a Tacoma and Tonneau Buddy fits perfectly. Was out of the box and in my truck in under 10 minutes. Super easy set up and well made. Great product.